G.O.P. WHIP OUT "ANARCHY IN THE PROSTATE"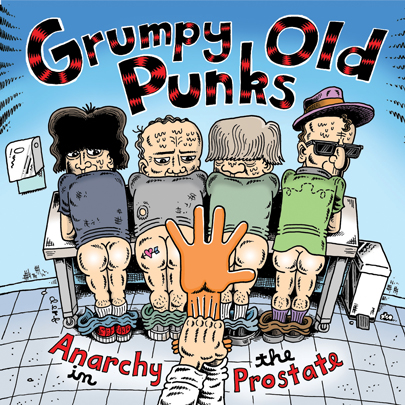 Grumpy Old Punks have unzipped their latest EP "Anarchy in the Prostate." It features more of their middle age punk rock rage including "I Brag About the Sleep I Get," "Gotta Get A Nose Hair Trimmer," "My Adjustable Rate Mortgage Really Sucks," "Why Do I Take This Little Blue Pill," "All I Do is Drive My Kids" and the urinary tract title track. Download an electronic press kit here. Get the album on iTunes. The band will announce some gigs as soon as their wives give them permission to leave the house.
"ANARCHY IN THE PROSTATE" FIRST LOOK

Four middle age rumps about to be violated by a rubber gloved hand. This is your first look at the cover of the forthcoming new Grumpy Old Punks EP entitled "Anarchy in the Prostate." This basic pencil sketch which will be expanded on and colorized for the final album artwork. The art is once again by underground legend Derf and will be seen in its fully finalized glory when the record drops in March. We only hope the doctor changes gloves for each butt. Blech.
DERF HAS "ANARCHY IN THE PROSTATE"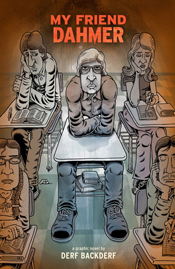 Grumpy Old Punks are as stoked as their tired, old asses can be to announce that world-renowned, underground (That is, if it's even possible to be both "world renowned" and "underground") cartoonist DERF will return as their album cover illustrator. "Anarchy in the Prostate" will hit in Spring 2012. EP deets soon. Meanwhile, check out Derf's new graphic novel "My Friend Dahmer" about his real-life, childhood friendship with serial killer Jeffrey Dahmer. No, really. Find he and it at DerfCity.com.
GRUMPY OLD PUNKS NOW ON iTUNES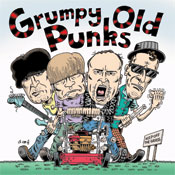 The middle age anger and frustration that musically manifests itself as the Grumpy Old Punks self-titled debut album are now available on iTunes and as ringtones for iPhones. The EP includes the classics "Grumpy Old Punks," "That's No MILF That's My Wife," "Where Are My Glasses," "Hey You Kids Get Off My Lawn," "Empty Toilet Paper Roll" and "Why Do I Have to Pee All the Time?" Get it on iTunes here and watch for news soon on upcoming GOP shows!
DEBUT VIDEO FROM THE G.O.P.
Grumpy Old Punks have released their self-titled, debut video to the punk rock starved, middle age masses of the world! Directed by Rick Hamilton of TCB Creative, you can check it out on "YouTube" which is where "the kids" go to watch "videos" all day until their "brains" are "mush."
GRUMPY OLD PUNKS SELF TITLED DEBUT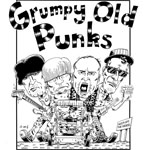 The masters of middle age musical mayhem the Grumpy Old Punks have announced their self-titled debut album. "We're not sure whose going to release it yet but if a bunch of crappy auto-tuned artists can get on iTunes then we can, too, "said lead singer LouB. The album, filled with lyrics inspired by "middle age punk rock rage," features songs like "Hey You Kids Get Off My Lawn, "Grumpy Old Punks," "Nose Hair Trimmer" and "Where Are My Glasses?" Another favorite is the tale of a twenty-year marriage ending when the wife leaves to do Internet porn entitled "That's No MILF That's My Wife." LouB adds, "It's not a true story…yet. However, the married guys in the band are nervously checking their computer browser histories after their wives surf the net." The album was produced by the band and mixed by Mike Landolt at Mike's Curry House Studio in Columbus, Ohio and will feature six original songs with lengths so short it clocks in at around eight minutes. Look for it in November 2011.
THE GOP HOPE TO LIVE TO SEE ALBUM RELEASE
The Grumpy Old Punks, rock star darlings of the Viagra set, are hoping to live to see the release of their self-titled debut album in late 2011. "We're not getting any younger," said guitarist KRoy. "If we don't get moving on this thing soon our first tour will double as our farewell tour. We're not a well band." The band is writing and recording when their busy schedules of daytime jobs, meaningless household tasks and endless rounds of driving their kids allow. "At this point in my life I'm hoping for two things," said singer LouB. "For this album to get recorded and a healthy bowel movement. Preferably not at exactly the same time."